Climate Policy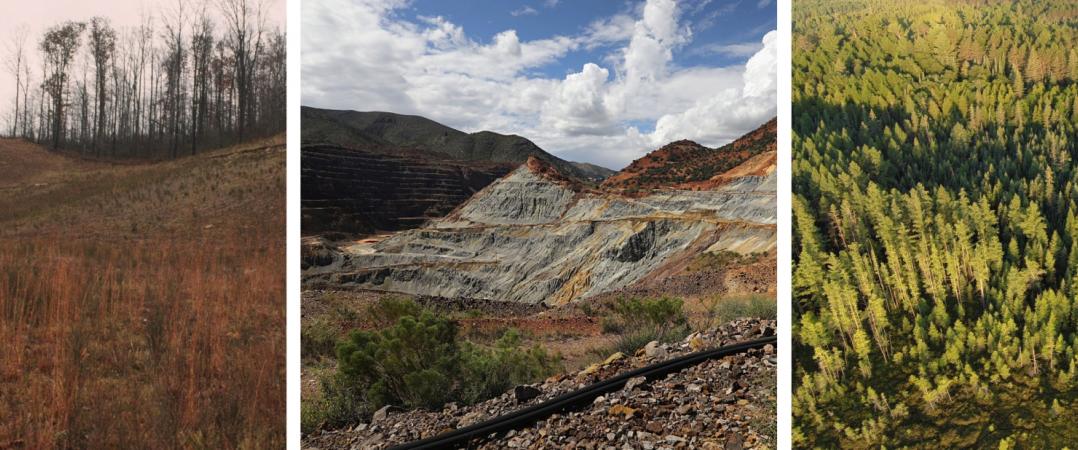 Working Group
Climate policy will not be understood by most people through changes in the density of carbon molecules in the atmosphere or the source of the electrons in one's circuits. Rather, it is the buildings, landscapes, and public works that stitch together everyday life where fights over climate adaptation and mitigation will be won or lost. As such, we view investments in the built and natural environment as a key instrument through which to imagine and construct the kinds of alternative futures described in programs like the Green New Deal, the Just Transition, and other redistributive climate policy frameworks.
The working group is focused on questions of how the energy transition, the climate crisis, and frameworks like the Green New Deal will transform communities, landscapes, and the planet over the next century. Some of these questions are technological and scientific, with links to the deployment of clean energy systems, carbon capture and sequestration technologies (including trees), and the broader push to "electrify" and then decarbonize everything. But our primary concern is one of culture—how the climate crisis and our local, national, and global response to it might transform how and where we live and relate to one another. Whether through experiments with aesthetics, climate fiction and other modes of storytelling, scenario-based modeling and visualization, or other forms of testing or landing climate policy in real places in partnership with real constituencies, this group's work flows from a simple premise: that no one can or should understand climate change or the energy transition solely through the concentration of carbon molecules in the atmosphere or the source of the electrons in their circuits. Rather, they can and should comprehend it through the investments it makes possible in their everyday lives—through deep energy retrofits in their homes, through good-paying and dignified low-carbon jobs, through low-carbon transportation and recreation options, and through the broader, more quotidian infrastructures that stitch together everyday life.
The climate policy working group is led by Billy Fleming and Nicholas Pevzner. Fleming's work has developed in close partnership with a transdisciplinary network of scholars, activists, legislators, and others in the climate justice movement, often through an organization named the "climate + community project" which he co-directs. His work has been published in the New York Times, The Atlantic, Washington Post, and Dissent Magazine, among others. Pevzner's work has included the topics of urban ecology and its integration into landscape design, as well as energy infrastructure and its spatial impacts within the energy transition. His research brings together interdisciplinary collaborations with colleagues in ecology, forestry, sociology, planning, architecture, cultural landscape studies, and energy policy.
Projects
Carbon Sinks on Abandoned Lands
Thousands of hazardous waste and abandoned sites are dotted throughout the U.S. landscape. They represent a significant remediation challenge, but also the potential of other ecological and community benefits. This research project considers abandoned land's carbon storage potential, investigating the contribution that a beneficial reuse of the nation's hazardous waste and abandoned sites for carbon storage could have, while visualizing the social and ecological benefits of such a strategy. It entails mapping and describing the variety of abandoned land typologies, research into remediation and afforestation strategies for these sites, and development of a Landscape Strategy Toolkit that explains their social, ecological, and carbon benefits.
An Atlas for the Green New Deal
This atlas was conceived in relation to three intersecting issues. First, excess carbon in the atmosphere is changing the world's climate: sea levels are rising, temperatures are increasing, and destructive weather events are becoming more frequent. Second, because it is our own systems of extraction, production, and consumption that are causing this climate crisis, an incremental approach to the future is not an option. Third, the US population is expected to grow by at least 100 million people this century, adding significantly to what is already the world's mostconsumptive, high-carbon economy.
Taking on these challenges requires that we ask some big—and unsettling—questions. What will be lost—economically, culturally, psychologically, physically—should the climate crisis continue unabated? How can we begin to come together around a response to the crisis that will reshape how and where we live? How can we begin to think about investments in the built environment as a catalyst for the broader aims of decarbonization, adaptation, and social justice at a meaningfulscale?
Climate + Community Project (ccp)
The climate + community project (ccp) works to connect the demands of the climate justice movement to the policy development process. We aim to do this by developing new, investment-forward public policy proposals under the framework of the Decade of the Green New Deal that target the intersection of climate justiceand the built environment. We support efforts to address the climate emergency at the scale, scope, and pace needed to confront our overlapping crises.
A Green New Deal for Public Housing
A Green New Deal for Public Housing would deliver massive health and economic benefits to disadvantaged communities, including in Indigenous nations, in keeping with the president's Justice 40 policy mandate to deliver 40 percent of climate investment benefits to disadvantaged communities that have suffered most from racism, disinvestment, and pollution; it would save public housing, a cornerstone of the country's endangered affordable housing stock; it would turn public housing into green community infrastructure that raises the living conditions of those entire communities, providing resilience against extreme weather during crises, and community services every day; it would train a new generation of union workers in the green building industries, creating good skilled jobs in the communities that suffer most from unemployment today; it would breathe life into the American manufacture of green buildings materials and appliances; it would remove all lead, mold, and other toxins from public housing to help remediate environmental racism and racial health disparities; it would repair elevators in all public housing, meeting the basic needs of disadvantaged community members, including those with disabilities; and it would repeal the Faircloth Amendment, allowing towns and cities across the country to build new, green, healthy public housing. We know how to do this.
A Green New Deal for Public Education
A Green New Deal for K–12 Public Schools addresses these long-term issues of health and environmental inequity, educational inequity, economic inequity, and structural racism by offering equitable goals, priorities, and $1.4 trillion in funding for our K–12 schools through federal Climate Capital Facilities Grants, Resource Block Grants, and expansion in Title I funding over the next decade. Without it, we risk deepening these existing inequities between facilities conditions, per pupil spending, and teacher retention rates, that contribute to poor health, educational, and economic outcomes for majority BIPOC school districts and communities.
A Green New Deal for Transportation
n this report, we propose a series of critical opportunities for new transportation-related policies to improve equal access, mobility, and opportunity in our transportation system, reduce emissions, support global climate cooperation, and develop long-lasting infrastructure and workforce development strategies on a changing planet. We argue for a shift away from past policies that encouraged the release of greenhouse gases and other air pollutants while furthering social inequity. Instead, the transportation system should be viewed as a strategic lever for investing in good-paying low-carbon jobs, justice, and a decarbonized economy.
Field Notes Toward An Internationalist Green New Deal
Field Notes toward an Internationalist Green New Deal is a project of the McHarg Center driven by graduate research assistants Palak Agrawal, Selina Cheah, Zane Cooper, Ian Dillon, A.L. McCullough, and Yixin Wei under the direction of Billy Fleming. Employing a variety of digital media, mapping, storytelling, and other methods, this project asks a series of critical questions about the international and justice dimensions of the Green New Deal. How might the buildout of clean energy infrastructure in the Global North reproduce exploitative relations to the Global South? How might the Green New Dealers seek to ameliorate concerns that their vision represents yet another a form of green imperialism or green capitalism? How might designers think differently about where and how they participate in the discourse around an energy transition, a just transition, and a Green New Deal? Field Notes intends to probe these questions through the development of a new website and digital storytelling platform aimed at making these complex power relations and material flows legible; thinking, drawing, and writing critically about the political economy of energy system and infrastructure production with which design is often complicit; and inviting external collaborators to add to our work, thickening and expanding our understanding of the Green New Deal's international dimensions over the coming years. Think of it as part mapping and representational, part oral history andethnography, and part environmental humanities project rooted in questions of how and where landscape architecture fits within the next century of climate-driven action.